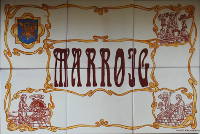 3A, carrer del vicari Pastor (carrer de La Rosa) - 07100 Sóller, Mallorca
Marroig (Can Panxeta)

Bakery and Cakeshop since 1852
This family business was founded by Francesc Marroig Ferrer (nicknamed 'Panxeta'), in 1852. It was at that time about one hundred metres from its present location, in the very centre of the town and beside one of the bridges that then connected the two halves of Sóller, thereby receiving the name of "Forn des Pont" (The bridge bakery).
In time the business passed on to his son, Antoni Marroig Alcover, and then to grandson, Francesc Marroig Oliver, who, on retiring, moved the bakery to his family home of Can Poma, at number 3A, Carrer Vicari Pastor, also known locally as Carrer de La Rosa (The Rose street), where it remains open to this very day. Run today by the fifth generation it occupies most of the ground floor of the aforementioned building. Bread, pies and pastries are the most notable products. The bakery is inscribed in the Sóller Register of Artisans.

The Bakery has been awarded the Carta de Mestre Artesà Forner i Pastisser (Master Artisan Baker Award), and has received recognition from the Balearic Chamber of Commerce for having been in the baking business for more than a century.




3A, carrer del vicari Pastor (carrer de La Rosa)
(Carrer de la Rosa)
07100 Sóller
Mallorca
Tel: (+34) 971 631973
e-mail: canpanxeta@hotmail.com